Don't miss out! Pig farm tour prior to VIV Europe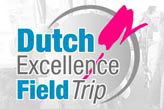 On May 19, Pig Progress and VNU Exhibitions, the organiser of VIV Europe, will host a Dutch Excellence Field Trip leading you to an innovative pig farm and pig innovation centre. Register now because the bus is filling up fast!
The first stop of this tour will take visitors to a 500 sow breeding farm in Voorthuizen, about 40 km east of Utrecht. It is here that two recent innovations by the Netherlands-based pig equipment manufacturer Vereijken Hooijer can be admired. First, the Date Gate, an automatic circuit for one or more boars for both stimulation and insemination. In addition, there is also the VariPlus, a movable farrowing flooring system. Designed for piglet protection, the system pushes up the sow's floor as soon as she stands up.

A second stop is made at the Swine Innovation Centre (VIC), Sterksel. This is Wageningen University & Research Centre's experimental facility for pig farming research. The university uses this facility to conduct research into different aspects of pig husbandry, such as feed, emissions, mineral management and health. You will be able to see the premises and ask questions. It is a multifunctional research centre for modern, innovative and sustainable pig husbandry, both in the Netherlands and abroad.

The tours are organised in co-operation with Pig Progress' sister publications AllAboutFeed and World Poultry. If you are more interested in feed or poultry, we have different tours on these topics as well. Click here for more information about the three different tours and how to register.