Dispute in Belgium over traces of prednisolone in pigs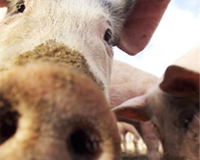 Several agricultural organisations in Belgium have complained that pig farmers are being blamed for the use of prednisolone in pigs, although scientifically nothing can be proven.
In Belgian slaughterhouses, pig urine often contained traces of prednisolone in 2011. This was pointed out in the annual report of the Belgian Hormone Commission (Hormonencel).
The presence of prednisolone could point to the usage of illegal, growth promoting products; it could also be the consequence of the production of prednisolone by the pigs themselves as a result of stress in slaughterhouses.
Prednisolone is a synthetic glucocorticoid inhibiting infections; in addition it has an immunoregulatory mode of action. The product is forbidden for usage in pork production in Belgium.
Prednisolone can be produced by the animals themselves under certain circumstances. Hitherto, scientific research into this topic has been limited.
As from April 2011 until January 2012, in controls for prednisolone, 29 irregularities were found in 250 analyses. In all samples, extra analyses were carried out, which led to lower figures. This pointed to the product's unstable behaviour and a strong variation in analysis results. A thorough research on premises included did not yield any usage or misusage of growth promoting products – and no such products were found.
The size of the finding of prednisolone traces is one per billion. The independent scientific advice, given by the scientific committee of the Belgian Food Agency for the Safety of the Food Chain (FAVV) therefore stated that the used limits are rather arbitrary without scientific basis – and only serves as a reference in laboratories.
The committee also points to the fact that scientific information is lacking. The Belgian organisation for farmers (Boerenbond) as well as the agricultural organisation (ABS) stated it is unacceptable that farmers are being blamed for misusage of illegal use of growth promoters although misusage cannot be proven.
They require clarity in the matter.