Dioxin scandal: Hundreds of pigs to be killed in Germany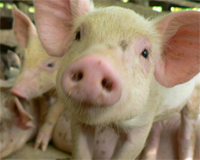 The focus of Germany's dioxin animal feed scandal has switched from poultry to pigs with news that hundreds are to be slaughtered, reported the BBC. High levels of dioxin were found in pigs early on Tuesday at a farm in the county of Verden, Lower Saxony, officials said.
The farm had bought feed containing fats at the centre of the scandal.
Officials say levels of dioxin found so far do not present an immediate danger to human health.
Gert Hahne, spokesman for Lower Saxony's agriculture ministry, said the pigs in Verden would be slaughtered and incinerated.
It is the first time high levels of dioxin have been found in pork at a farm closed under the current ban, AFP news agency reports.