Denmark: more biogas plants on pig farms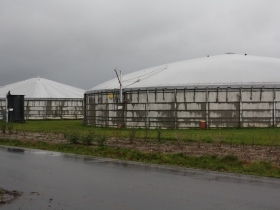 The Danish government wants to see at least 50% of all farm manure produced in the country used to make biogas within the next ten years.
Enticements to encourage this development include 20% capital grants and high electricity prices where the current is supplied to the power network by the farmers.
Green growth programme
Under the Danish government's so-called 'green growth' programme, biogas production is seen as an important tool in the reduction of climate-changing gases from Danish agriculture.
If 50% of manure from Denmark's 1.5 million cows and around 13 million pigs is fermented to gas, the government reckons this could reduce the country's production of climate-changing gases by as much as 8%. The 'green growth' programme is to be fully introduced next year and is Denmark's way of implementing EU climate protection and water biodiversity legislation.
Plants
Currently there are only around 80 farms in the whole country with biogas plants out of around 5,500 pig production and 5,300 dairy farms. So far, Denmark has specialised more in centralised municipal or cooperative biogas plants where manure from farmers as well as industrial by-products such as slaughterhouse waste is processed. There are around 20 of these and the biggest plant processes manure from 60 farms with a delivery of 200,000 tonnes manure yearly.
"Naturally, only a small percentage of Denmark's farm manure is processed so far. But under the 'green growth' programme the state wants to have more than 50% treated before 2020," explains Thorkild Q. Frandsen, chief biogas system adviser with the state agricultural advisory service Dansk Landbrugsrødgivning.
He adds that, so far, the government has discussed a 20% capital grant for new centralised biogas plants.
Decentralised units
"We want this grant to be given for new decentralised farm biogas units too and will be helping farmers negotiate for this," he says. The government also plans, according to Frandsen, paying the equivalent of €0.12 per kWh for electricity produced from biomass-powered generators.
This price, which is double the average cost of electricity to industrial customers in Denmark, is to be guaranteed for 15 years. However, farmers argue that they would need at least 14 c/kWh to make any income from the manure biogas.
City power
City power and heating stations have also seen possibilities in cheaper energy through a countrywide increase in biogas production. They are planning pipelines taking farm-produced biogas to central power stations. One such city, says chief advisor Frandsen, is Ringkøbing in West Jutland.
"We are also helping farmers start negotiations for the right to feed specially prepared biogas straight into the national natural gas pipeline network."