Delacon: Advanced agricultural research facility opens in Czech Republic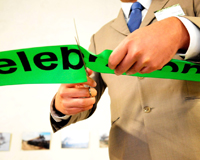 Delacon announces the official opening of thePerforming Nature Research Center, a world-class center for advanced phytogenic research.
The facility is a component of Delacon's global R&D program, conducting primary and applied research, and animal feeding trials. The Research Center is a substantial new corporate commitment to meeting the current and future needs of the animal nutrition sector for efficient, safe and cost-effective, phytogenic-based products.
On 19 October 2011 Delacon officially opened the Performing Nature Research Center (PNRC) in Czech Republic. The development of this research facility is testament to Delacon's commitment to research, innovation, and technological development.
The Research Center was specifically designed and built from the ground up to provide in-house testing and trial capacity for Delacon. It will be used to test innovative phytogenic substances developed in Delacon's R&D programs and to conduct trials of new feed application methodologies with live animals in typical production environments.
Pioneered for the future
The near-term focus of the Research Center is digestion and growth improvement, disease prevention and the reduction of animal and production impacts on the environment. There are challenges for the sector and Delacon's customers: changing regulations, new technologies, evolving animal diseases, complex consumer expectations and the constant concern with the bottom line economics of farming in the 21st century. Markus Dedl, CEO of Delacon, explains: "It is expected that the Research Center will play a key role in identifying ways to improve overall animal performance and welfare, and to reducing undesirable environmental pollutants. The PNRC will significantly speed up the development of a new generation of phytogenic products that will help resolve the challenges of intensive animal production."
Outstanding technology
The first phase of the facility at the PNRC includes a broiler feedlot, layers, climatic chambers and our unique computer controlled and automated feeding and watering system. During the second phase of development there are plans to construct facilities for swine nursing, fattening and breeding.