Defra offers flood support to farmers in Brazil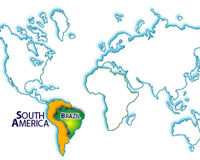 Environment Secretary Caroline Spelman has offered the support of experts in flood response and recovery to the Brazilian Government after flooding devastated parts of the country.
Environment Secretary Caroline Spelman said: "Our thoughts are with the many people of Brazil and Australia whose lives have been devastated by the extreme flooding. We know from our own experiences of recent years the terrible effect that flooding can have and the challenges it presents. Earlier this week my colleague the Foreign Secretary offered our support to the Australian Government and yesterday I spoke to the Environment Minister in Brazil to extend the same offer of help, such as support from our own experts in predicting and responding to flood emergencies at the Environment Agency and the Flood Forecasting Centre. If there is anything we can do to make even a small difference we are ready to do so."
Support for farmers
Defra has offered help to deal with the immediate aftermath of the flooding by sharing knowledge gained from recent flood events to aid recovery efforts, pumping water back into rivers and support for farmers and businesses affected.
Longer term, Defra has also offered to share expertise in assessing the risk of flooding, which is carried out by the Flood Forecasting Centre.