De Heus appoints new member of Supervisory Board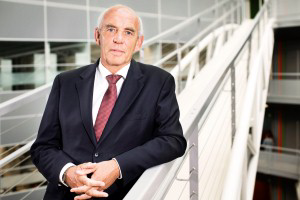 De Heus Animal Nutrition have further strengthened its Supervisory Board with the appointment of Aalt Dijkhuizen. As of 1 January 2014 Dijhuizen will join the company bringing with him a wealth of experience and knowledge within the national and international food and agri sector.
In 2002 Aalt Dijkhuizen was appointed Chairman of the Board of Wageningen University and Research Centre. Under his leadership Wageningen UR has grown to become one of the most internationally renowned knowledge institutions within the food & agri sector. For many years he was also associated with Wageningen UR through his endowed professorship.

At the opening of the new academic year Aalt Dijkhuizen has announced that he will relinquish his role as Chairman of the Board of Wageningen UR with effect from 1 March 2014.

In between holding his endowed chair and his tenure as Chairman of the Board Aalt Dijkhuizen was actively engaged in the business sector as a member of the board of the animal nutrition company Nutreco.

"We are extremely pleased and proud that Aalt Dijkhuizen will strengthen our Supervisory Board. With his knowledge and network in the international agricultural academia and the business sector, we are convinced that he will play an important role within our Supervisory Board. In that role he will assist in giving meaning and guidance to our ambition to contribute to a better and more efficient feed production through further expansion of the company", says Co de Heus.

The appointment of Dr. Aalt Dijkhuizen completes the composition of the Supervisory Board which further comprises H.A. de Heus (Chairman), Prof. R.G.C. van den Brink, Prof. G.R.A. de Jong and H. Spierings.