DDGS offer opportunities for pig farmers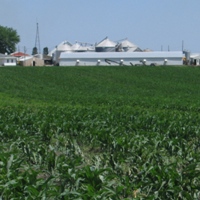 Preliminary results show that rations high in distillers' dried grains with solubles (DDGS) suggest an opportunity for Canada's pork producers to load up on cheap feed.
©
Eduardo Beltranena, a pork research scientist with Alberta Agriculture and Rural Development – who led the project, said: "At this stage in the study, DDGS is proving to be an economical, quality feed for pork producers to utilise in their rations. As the project continues, further effects on pork quality can be determined, therefore creating a broadened market for the abundant and valuable co-product of ethanol production."
Pork quality
The study, he said, is now in the process of determining the impact on growth performance and pork quality with the inclusion of high levels of DDGS in the swine diet. So far, though, he reported 'no concern whatsoever' in the growth performance of the pigs when fed DDGS.
The preliminary results, he said, point to a slightly higher yield of pork with a lower level of intramuscular fat compared to swine fed on a soybean meal-based diet. The lower intramuscular fat, he said, would be an attraction for consumers.
The research now also goes to determine the amount and duration of the dietary inclusion level of DDGS prior to market weight, so as to avoid undesirable effects on pork and fat quality.
Related website:
Alberta Agriculture and Rural Development