Danish pig producers are optimistic about the future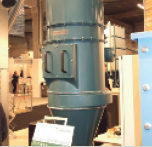 For the last time, the Danish agricultural show Agromek was held as an annual show. Although taking place virtually at the same time as EuroTier in Germany, the show had a lot of new innovations to offer pigproducers.
Agromek was held in Herning, 30 November to 3 December 2010, in the heartland of the Danish pig industry. After being held annually for many years, the show is now going to be held biannually, in November, in even numbered years. This was done to have the show alternate with the huge German-based AgriTechnica show as the Agromek organisers are also promoting their show as one having a major machinery focus. Denmark has huge pig and dairy sectors and so the livestock industry is still well supported at Agromek.
The Danish pig industry is going through tough times right now and the outlook for 2011 is not looking good. The Danish have 'dug in' and see the glass as half full, not half empty. Martin Andersson, head of research at the Danish Agriculture and Food Council, said that food land prices have plummeted so that for the banks their collateral has been much reduced. "Only the top one third of producers can get money from the bank."
Hyperprolific sows
The Danes have been hugely successful in producing hyperprolific sows, with 40 pigs per sow per year being talked about. One downside is that often individual piglet birth weights in these huge litters are low and hence mortality is quite high. The Danish press has picked up on this with headlines screaming 25,000 piglets die each day on Danish farms! Yet at the same time the welfare groups are pushing for completely loose farrowing systems to be implemented. What does the
Danish public want?
Building in extra farrowing crates to take foster sows, Andersson argued, is a cheaper option than using rescue decks. He also argued that it is cost effective to employ night staff on units with 500 sows or more, to reduce pre-weaning mortality – and hopefully the bad press as well.
Danish breeding company Danbred are using genomic selection to good effect, with breeding progress being increased by 20%-30%. It has already been introduced to improve the Danish Duroc, in terms of daily weight gain, Feed Conversion Rate and lean meat percentage. This genetic tool also has great potential in terms of sow longevity and mothering ability.Since the banning of antibiotic growth promoters (AGPs) the amounts of prescribed drugs have steadily risen on Danish pig units and this is causing concern. Farmers whose drug use has doubled get a 'yellow card' and if their useage has not decreased after nine months are put into administration, which basically means that vets take over running the farm.There are also concerns about Methicyllin Resistant Staphylococcus aureus(MRSA) infections in farm staff (with doctors blaming it on the antibiotic usage on-farm) although the levels are low compared to those in the Netherlands.
Andersson's presentation, however, was not all gloom and doom – the weaner trade to Germany is likely to remain strong for the next five to ten years, plus Danish pig farming has halved its environmental impact since 1985.
Agromek & EuroTier
Some Danish equipment manufacturers chose just to exhibit at Agromek, whilst many also had stands at EuroTier, held in Hanover, Germany in mid-November.
"The Danish market is limited and so we must look to sell abroad. About 70% of Danish producers have converted to loose housing, but for those still looking to convert, planning takes a long time, plus the banks are cutting back on loans as they now feel that they have too much exposure in the agricultural sector," commented a spokesperson on behalf of Sdr Vissing Staldinventar – a company that also exhibited in Hanover and incidentally is known as Vissing Agro since January 2011.
"We have to look to Eastern Europe and China for business. Also on the welfare front there is a lot of interest in our free farrowing system – whereby the crate can be opened out a week after farrowing so that the sow can move more freely. We have sold 600 systems which significantly includes ten to the USA."
Attendance
The very wintery weather undoubtedly affected attendances at the show, but those from Denmark and abroad who did battle through the snow had a fulfilling experience, leaving with many ideas, which when implemented will help improve the financial state of their pig business. PP
The next edition of Agromek will be held in Herning, Denmark, 27-30 November 2012.
Innovations at Agromek, Herning, Denmark, 30 Nov – 3 Dec 2010
Pneumatic transport system
To get a balanced feed mix, many minerals have to be transported and mixed. Usually this is done mechanically, by means of spiral conveyors or buckets. These all have many components, which require maintenance and need replacement. This can become expensive as minerals are abrasive. In addition, mixing time is lost when the equipment is down, being repaired. Ogendahls Maskinfabrik have taken a different approach, gaining a three-star award for their pneumatic transport system which uses air, thereby reducing down time, maintenance and cleaning requirements.
Reduced ventilation in pig buildings impacts on the animals' health and on the other hand, excessive ventilation costs money. Skov was awarded three stars for its Dynamic Air concept, ensuring improved minimum ventilation as well as optimising heat consumption. "A Dynamic Air sensor is placed near the air outlet flap which enables the climate computer to calculate the airflow in the exhaust unit with complete accuracy," Skov explained. The company also finetuned its BioFlex air cleaning system. The modified system was fitted with a reliable washing robot for ammonia reduction.
How to cope with big litters? Split suckling is often used to make sure that all the piglets get milk, especially the smaller and lighter ones, to keep piglet weights even. The system involves shutting away half the litter at a time, but the task is labour intensive and in big farrowing houses some piglets may be forgotten and end up being locked in the creep box for far too long. Veng System's Split Nurser (which was awarded two stars) opens the creep slide automatically, depending on the time that's programmed in. A similar innovation was presented at EuroTier by MS Schippers.
Bedding for pigs needs to be as absorbent as possible. Barley straw is better than wheat straw in this respect, but generally is not as available. Another alternative is bedding/ litter made from rape straw. In fact A.J. Energi makes four types of litter, ranging in degrees of fineness. The company importantly heat treats the straw, thereby sterilising it. In addition to using it as bedding, this product can be used to reduce smells and ammonia emissions from slurry silos. This is facilitated by covering the surface of the slurry with the rape straw litter.
Big Dutchman invariably comes up with innovative products for Agromek and the company triumphed again. Especially in these times of high feed prices, producers feed must not be wasted and so any aid to ensure waste is minimised is a bonus. The company gained a three-star award for their CallMatic ESF trough sensor, which continuously records the level of feed in the sow's trough and how fast the sow eats. Via the feed computer, feed delivery can be matched to the speed at which the sow eats. Sows don't waste time waiting for feed and so feeder throughput is maximised.
Skiold A/Sgained two stars for their transponder station. The station is adjustable in width to handle gilts and sows of all sizes. The feed trough has been specifically designed so that the sow can eat all her feed, so that none is wasted. Other features of the station are: An open front end to allow for easy inspection, plus an automatic flushing system which ensures that the sow always receives clean feed.
An additional feature is that one
side of the station can be opened to allow access and for taking out feed samples, as required.
Outdoor pig production is attractive because of the green image it portrays. Denmark has quite a small outdoor pig sector and Astute, a new Danish company, exhibited their outdoor electronic sow feeder. It works off a 12 volt battery and the feed hopper can hold 200 kg. Astute suggests a guide price of 4,500 DKK per feeder system. ESF systems are activated by transponder tags which over the years have become smaller and smaller and, more significantly, cheaper. Agrisys-Nedap EID 25 eartags (photographed) are light, have a robust locking mechanism and don't come off easily (two stars award).
Maximising productivity is vital especially in times of low prices and it's vital piglets get off to a good start. Wet creep floors can lead to piglets getting chilled and so any new product which keeps floors dry is welcomed. Nordic Stald Kemi exhibited its two-star product which helps boost litter productivity. Nordic Fiber-Hyg contains potato fibre which helps dry out damp pen floors. Potato fibre contains starch which soaks up fluids. In addition, the potato fibre in Nordic Fiber-Hyg consequently has a beneficial effect on the gut health of piglets.