Danish pig producer building a pork network in Slovakia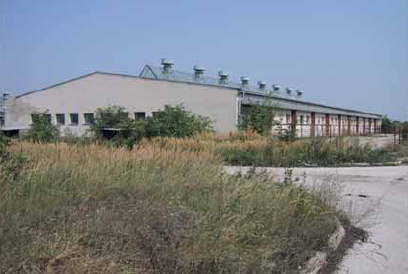 Some ten years ago, Danish pork producer Christian Nors, together with two other Danish producers, made the jump to middle European Slovakia. Here they now operate nine pig operations with a total capacity of 5,300 sows and 150,000 slaughter pigs per year. And soon another two farms will be added to the business.
Many pork producers, especially in north western Europe, must often have dreamt of the idea of escaping the growing jungle of regulations and start anew in a place where opportunities seem endless, the market offers good perspectives and where being an entrepreneur is not a frustrating experience due to seemingly endless bureaucracy.
In some cases, dreaming became reality – and new businesses were found across the border. Quite a lot of Danish pork producers are known to have invested their money in pig facilities in middle and eastern Europe. Christian Nors, age 44, and pig producer since 1996, is one of them. He started out as an economist, but now he owns a 5,200 sow farm in Viborg, Denmark, producing 150,000 grower pigs which are sold at 30 kg each. In addition to these pigs, he has about 1,000 ha grounds for crop cultivation. More importantly, since August 2001, together with two other Danish colleagues, he has been active in middle European Slovakia as well, and is one of the first Danish pork producers to do so. In total, he owns about 9,000 ha of grounds in Slovakia, and has at nine farms a housing capacity for 5,400 sows, yielding about 150,000 finishing pigs.
Investing
Over the years, he found out the virtues and vices of investing in the heart of Europe. Initially, Nors embarked on a project gaining access to the Czech protein market. He was a co-founder of a farm project for 1,000 ha and 1.8 million broilers produced per year. This project was sold off a couple of years later, after which Nors turned his eyes to the neighbouring Slovakian market in 2001. Here, in the south of the country, he initiated the purchase of two existing farm complexes which had been abandoned for some time and he had them renovated; it was the start of a long-lasting stay.
At last year's edition of EuroTier, during a seminar organised by the Danish turkey livestock housing company Graakjaer, Nors himself highlighted several reasons for investing in central eastern Europe. After all, he said, the countries in the heart of Europe have had a long history of importing pig meat – which indicates there is definitely a market for pork sales. In addition, he said there is a historic tradition for building large units. Labour costs and building costs are both lower, he added, not to forget governmental subsidies on investments. Last but not least, one could think of a surplus of grain and slaughterhouse capacity.
Investing in eastern Europe, however, wasn't all just happiness and prosperity, he highlighted, as there were many challenges. Differences in culture is one of them, which can extend from simple things such as language and working moral differences to long processes of obtaining permissions, for e.g. the eventual construction or environmental legislation. Big differences, he said, could also be found when dealing with trade partners and slurry handling. Financing was also a challenge, but he found co-operation in teaming up with the Danish Credit Fund (EKF).
Strategy
Nors said, "When we started in Slovakia, back in 2001, we set up a ten-year business plan. It consisted of a proper goal, vision and strategy – we wanted to have 300,000 pigs on the market in 2011, which would equal 20% of the total annual pig production in Slovakia."
Right now, ten years later, the total investment sum has approached approximately €110 million, Nors explained. The money has been spent in two phases.Phase one is handled by the agricultural company Pigagro Group, headquartered near the town of Hlohovec, in the west of Slovakia. This phase included the nine farms, mentioned earlier, located in west and central Slovakia, at project costs of €60 million. Nors said the company undertook a lot of renovations itself.
This eventually worked out fine, but it cost him a lot of energy, co-ordinating and re-organising. Nors said, "It was an awful lot of things that came down to our own organisation. We thought that we could probably do it cheaper, but in fact we were not professional contractors. If I spent this time raising pigs instead of organising the subcontractors, I think it would have been more efficient."Pigagro owns seven of these farms, the two others are rented. In total, 5,400 sows are housed (2013-proof), yielding an annual output of 130,000 finisher pigs at 110-120 kg and an additional 15,000 pigs sold at 30 kg. Nors said, "One could say this is only half of what we intended to have by 2011. But that was on the assumption that Slovakia would continue to produce about 1.8 million slaughter pigs per year. This total, however, has shrunk by two-thirds to 600,000 per year. This means that by now we already produce 25% of all slaughter pigs in Slovakia."
Apart from pigs, the Pigagro Group also produces grains, e.g. winter wheat, winter barley, oil seeds, winter rape/ sunflower, corn, spring barley and triticale. The majority is used for feed production.
Second phase
This year, Nors' number of pigs will grow sharply, as the €50 million second phase is now being carried out. This phase, overseen by a company called 'Europork', includes the acquisition and remodelling of two existing farms in the south western part of Slovakia, at approximately 10 km distance from each other. Environmental approval for these farms was obtained in 2010, after which construction could start. First pigs are expected by the end of 2011 at the earliest.
Eventually, a total of an additional 200,000 finishers will have to be housed at these properties, as they will be filled with 30 kg piglets from 7,500 sows, transported from farms of three shareholders in Denmark, where keeping finishers is a more difficult business due to strict odour and manure legislation. The piglets will be finished in Slovakia up to 120 kg liveweight, after which they will be sold to a series of slaughterhouses in predominantly Slovakia – and some will go to the German and Hungarian market.
The farms are located near the villages of Velky Cetin and Vrable; together they have 4,100 ha crop land. The first one was originally constructed as a pig research farm in 1982. At the moment it is totally renovated to just over 23,000 pig places with an annual production of 80,000 finishers from 30-110 kg. The second farm will have an annual production of 120,000 finishers in the same category – this is a pig production and poultry farm which was constructed in the 70s. It will eventually get almost 34,000 pig places. Nors described both farms as 'built for the third world war', i.e. constructed in a very solid way.
"These farms are now good farms and I expect them to last for the next 30 years."Building on experience, Nors is having the remodelling in this second phase carried out with the help of Graakjaer, headquartered in Holstebro, Denmark. Nors said: "We chose this company due to its 40 years of experience in this field. They have been involved in the construction of over 2,600 farms, so we know what they stand for. Until now we were concentrating on small suppliers, like one concrete supplier, one electrician, etc. Now we don't have to do that any more.
"Nors travels to Slovakia every three weeks to observe the progress of his sites. Three permanent Danish managers are working at the sites and there are about 200 people employed at all sites. Nors said, "Doing agriculture business in Slovakia is nicer than in Denmark. It has fewer inhabitants, tremendous growth is still possible and we have been lucky with the currency rates. And on top of that, we met a lot of nice people too. I am extremely happy to have made the choice to invest in Slovakia."
caption: Originally, the farms that were purchased in Slovakia needed a lot of repairing and reconstructing.
caption: The biggest farm of the Pigagro Group in Slovakia is called Dolné Semerovce, which was reconstructed in early 2009.