Danish pig industry struggling with market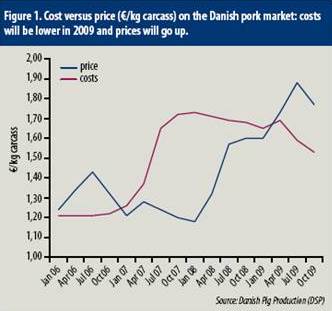 The Danish pig and meat industry is struggling with a handful of adverse market circumstances. Less credit, lower export prices as well as environmental and welfare rules make it a serious challenge to survive in one of Europe's top producing countries.
By Stuart Lumb
It has been a long time since the market situation for pig production in Denmark was as bad as it is today. In 2008, pig sow numbers dropped by 7.4% compared with 2007. Meanwhile, pork consumption has seen a steady decline, and in November last year, pig prices were 10% lower than expected. This year is not likely to bring full recovery either. Pork prices are forecast to rise in 2009, but not as soon as was hoped, due to the credit crunch. All in all, pig production is thought to drop by 6-7% and it is projected that 10-15% of all producers will quit the industry.
In search of an explanation, Finn Udesen, department manager of Danish Pig Production (DPP), said: "The credit crunch has affected Denmark just like any other country, and farmers are finding it very difficult to borrow money, plus farmers can't change banks." The recent decrease of land prices – around 20% in Danish Jutland – is another worrying trend, since land value is used as collateral for borrowing purposes, although the banks don't have cash to lend anyway.
As far as exports are concerned, the Japanese yen has followed the US dollar in an upward direction over the past couple of months, which makes Denmark relatively cheap – this is good for pork exports. The value of the pound, however, has dropped, which is not good for Danish exports, strongly focused on the British market.
Sow stalls
Producers have to get rid of their sow stalls by 1 January, 2013, and this date is looming fast for those producers still with stalls. Four years may seem like a long time, but planning applications for new buildings and farm expansions are taking even longer to process. Peter Hansen, chairman of the Agromek Exhibition Committee, says many planning applications are taking over two years to process and that a key industry such as farming deserved much fairer treatment. He added that municipal authorities lack the expertise, manpower and know-how to process these applications, plus municipal authorities interpret the regulations in a non-uniform manner. A flow of new legislation compounds the problems as well – the government has yet to issue precise regulations concerning best available techniques regarding the reduction of ammonia emissions.
Hansen further highlighted the fact that a small association of less than 1,000 members and an annual income of less than US$60,000 – the Danish Ecological Council – has the right to appeal against many planning consents, with these appeals taking another year to be ruled on. "Legislation and red tape are strangling Danish agriculture, and if these anomalies are not sorted out very quickly then agriculture and the Danish economy will be irreparably damaged," says Hansen.
Castration
Castration is an increasingly topical issue throughout Europe as the consumer sees castration as being very painful for the piglet. Now, alternatives are being looked at. The Danish Ministry of Justice recommended in June 2008 that Danish producers must use 'pain relief' from January 2010, and that in the long-term other strategies must be employed to reduce the risk of boar taint. The change might have some serious implications since the Far East is a key export market for Danish pork – and the Asians are very sensitive to boar taint. Long-term, sexed semen might provide an answer, but this technique will not be commercially available for another five years.
Slurry disposal
As slurry disposal is such a problem, many Danish farmers just produce weaners. In 2007, 3.8 million were exported to Germany for finishing, and in 2008 this figure rose to 5.2 million. Also, many Danes ship slaughter pigs to Germany as they get a better price there than by Danish slaughterhouses.
Source: Pig Progress Volume 25 nr 2