Danish organic pig meat sector is growing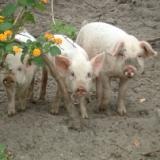 Although still small, production of organic production is increasing in Denmark, bolstered by the many export opportunities.
In 2006, 40% of organic pigmeat went to the UK, mostly in the form of back bacon. However, the Danish organic rules are different to the UK ones and, therefore, that pork would have been sold as 'organic' but not with Soil Association endorsement.


Different standards
Karsten Deibjerg of Friland, the organisation overseeing Danish organic production, said some of the Soil Association's standards were 'higher' as Friland focused almost entirely on the environment rather than also including animal welfare. "We come from different countries and we have a very different view of what is organic," he said. For example, in an organic system, Danish piglets can be weaned at seven weeks, one week earlier than in the UK, and male piglets can be castrated.


Castration is carried out to prevent boar taint and Mr Deibjerg said eating quality was far more important than any links between castration and poor animal welfare. "We cannot afford for a premium product to taste bad," he said.