Danish Crown to shut down pig slaughterhouse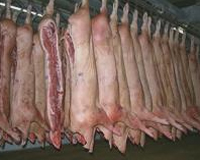 At a meeting, the Pork Producer Committee has recommended that the Danish Crown slaughterhouse in Esbjerg be closed down at the end of August this year.
At the same time, Danish Crown plans to invest in building up capacity at some of Danish Crown's other facilities in Denmark to ensure optimum capacity utilisation.
"We have seen a slight decline in the supply of pigs for slaughter to our Danish departments, and we are reacting accordingly. Making difficult decisions such as this is part of being financially responsible. We monitor developments in the competitive situation on the global market closely, and if we are to retain slaughterhouse jobs in Denmark, where production costs are far higher than in our neighbouring countries, we must ensure that our capacity is tailored accordingly and that we are continually optimising and streamlining production," says Danish Crown's Production director Søren F. Eriksen.
Closure of the slaughterhouse in Esbjerg will affect more than 500 employees. As with previous closures, all employees will be covered by Danish Crown's social plan, and a job bank will be set up.
The supply of pigs for slaughter has fallen by a few percent, so concurrently with the closure investments in capacity are being made at a number of other Danish Crown departments in Denmark.
"This will create approx. 300 new jobs elsewhere in the country, but it is still too early to say how the new jobs will be distributed. However, they will primarily be in northern Jutland," says Søren F. Eriksen.