CTB acquires two European companies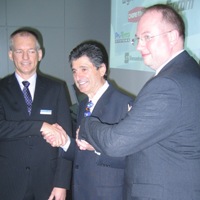 US livestock equipment manufacturer Chore Time Brock announced that the company has taken over two European companies.
At a press conference at the German show of EuroTier the acquisition of the Dutch company of Porcon and German company of Laake was made public.
Manufacturing stalls
Porcon Beheer, from Deurne, the Netherlands, manufactures and markets stalls, crates and pens, and packages these to offer a system solution.
Laake, based in Langen, Germany, is a designer, manufacturer marketer of gestation and farrowing stalls, with a special emphasis on animal-friendly equipment. It has also a small equine divison.
Financial details of both transactions were not disclosed – both of them are expected to be completely closed by January 2007.
Pig strategy
The acquisition of both companies adds to the new pig strategy that CTB is planning to implement.
As CTB, based in Milford, Indiana, US is predominantly known as active in poultry industry, the company is in the process of erecting a pig unit. By being able to offer pig packages, the company hopes to be putting more emphasis on pigs, said Victor A. Mancinelli, CTB president and CEO.
In May of this year, CTB acquired Agro Logic. Including the two latest acquisitions, CTB comprises ten companies, each of them retaining their own identity and brand names.