CPF to develop Economizer: New energy innovation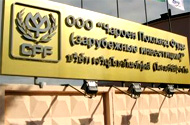 Mr. Virote Kumpeera, Senior Vice President of Charoen Pokphand Foods PLC (CPF) revealed the company has invested in energy innovation called "Economizer or heat exchanger device" to help reduce the lost or waste heat in the production process, of which Pak Thong Chai Feedmill in Nakhon Ratchasima is the pilot plant. The company plans to expand into other plants to gain fuel saving with the highest efficiency.
An Economizer initiated from the idea to saving energy, increasing work efficiency and reducing cost which are in line with the company's policies that strives for energy conscious into staff at all level.
©
The project came from one CPF staff after the observation in waste heat from the stack gas which believed this can be reused. Previously, CPF's production process at Pak Thong Chai Feedmill employed heat to increase water temperature to reach 105 celsius before sending to steam boiler. As the result, after 2-phase device installation, waste heat from the process has been transferred and reused by adding more 31 celsius into water temperature. This helps save energy cost reaching to 637,551 baht annually.©©©©
©
An Economizer is a heat exchanger device that captures the "lost or waste heat" from the boiler's hot stack gas. The economizer transfers this waste heat to the boiler's feed-water and can be used to heat domestic water. Capturing this normally lost heat reduces the overall fuel requirements for the boiler. Less fuel causes money saved as well as fewer emissions since the boiler now operates at a higher efficiency.
©
Recently, Economizer project has won ASEAN Energy Awards 2010, on category of Special Submission. Also, CPF's Pak Thong Chai received outstanding energy awards at Thailand Energy Award 2010 and Prime Minister Industry Award 2010.©
©
©