CPF profit surged compared to last year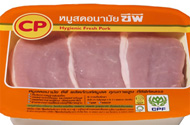 Charoen Pokphand Foods Plc. (CPF) reported operating results for the first 6 months of 2010 with total sales of 91,471 million baht or an increase of 21% from the previous year.
Increases
Sales from overseas operations increased 91% and Thailand operations increased 7%. Net profit surged to 7,227 million baht or an increase of 82% from the previous year.
©
Key factors driving CPF's net profit are an increased of associate income 96% and efficiency in production management, cost management and financial management.
©
In addition, CPF's Board of Directors has approved the interim dividend payment for the first 6 months period of year 2010 at 0.50 baht per share. The shareholders registration book will be closed for the right to receive interim dividend on 25 August, 2010 (XD on 23 August 2010). Dividend payment will be paid on 10 September, 2010.
©
CPF expects to post higher net profit and be able to pay higher dividend to its shareholders this year, said Mr. Adirek Sripratak, President and Chief Executive Officer of CPF.
©
Oversease growth
Overseas operations have impressive continuous growth both in sales and net profit especially in India, Malaysia and Turkey and still have promising future. For the first 6 months of year 2010, overseas operations contributed about 26% of total sales.
©
To fulfill its vision to be "Kitchen of the World" producing and supplying high quality food to customers around the world, CPF is committed to an innovation of all aspects related to its business operation including production process development, working process development, product development and human resource development which will enhance CPF's management efficiency and competitiveness.
©
Furthermore, CPF's strategy to move toward to food business and overseas expansion along with its commitment to corporate good governance and corporate social responsibilities will all contributed to sustain business growth and enable CPF to make consistent dividend payment to shareholders, said Mr. Adirek.