Continued Biosecurity – more important than ever in pork industry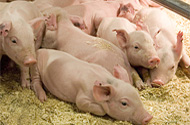 As producers and others associated with the pork industry prepare for visitors to Iowa and the United States for World Pork Expo and related programs this summer, Iowa State University (ISU) Extension swine veterinarian James McKean said biosecurity is more important than ever.
Both Foot-and-Mouth Disease (FMD) and African Swine Fever are moving through swine production areas in the world. Classical Swine Fever, also known as hog cholera, is as close as Mexico and the island of Hispaniola in the Caribbean. None of these viruses is in the United States and everyone needs to help keep it that way, he said.
©
McKean, who also is associate director of the Iowa Pork Industry Center at ISU, said people need to keep established protocols in place and make sure employees and visitors follow those protocols.
©
"In recent months, there have been cases in other countries where the movement of people or their clothing has led to disease outbreaks," he said. "We absolutely don't want that to happen here."
©
One such case involved a pork operation worker who was originally from outside that country. The worker received a bundle of clothing and work boots from home, and wore them on the job. This caused the introduction and transmission of FMD to the production site with spread to neighbors. The serotype was the same as in the worker's source country. In another case, another FMD outbreak was identified on the farm of a farmer who had recently visited China. The FMD serotype on that farm is the same as that currently identified in China. That outbreak continues to spread in the area.
©
McKean said it's easy to overlook basic biosecurity protocols like clothing and footwear changes and equipment cleaning, but that's all the more reason to pay additional attention when dealing with foreign visitors or workers. In addition, people should consider possible transfers with "comfort foods" brought to the United States from countries with any foreign animal disease (FAD.)
©
"Everyone who works with hogs in an operation should know and follow the biosecurity rules in place for that operation," he said. "This includes making sure that visitors to your operation and employees are made aware of the procedures and instructed or shown how to follow those rules."
©
McKean said appropriate biosecurity is a vital tool in the disease prevention arsenal of today's pork industry, but it works only if everyone does their part. Sudden presence of an FAD will not only devastate the original farm and those in the area, but also significantly impact export markets for all.