Confidence in growth potential of Saskatchewan swine industry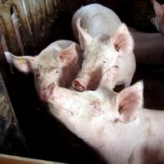 Saskatchewan Agriculture Minister, Mark Wartman, expressed confidence saying that the province is ideally suited to accommodate an aggressive expansion of pig production in an environmentally sound manner.
A survey of Saskatchewan's pig producers has shown approximately 80% support to commit pigs to and invest in a Saskatchewan based primary processing plant to replace the Mitchell's Gourmet Foods plant slated for closure by Maple Leaf.
Agricultural Minister,
Mark Wartman
, says that the province has good geological conditions as well as the ability to produce large amounts of feed, creating a significant opportunity to expand pig production. The government supports aggressive long term plans for growth and wants to see the full cycle, from farrow to finish to slaughter and processing.
Related links:
Related links: