Chinese will inspect Dutch pig slaughterhouses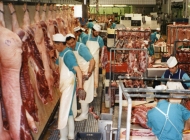 As from the beginning of December, Chinese inspectors will travel to the Netherlands to check upon pig slaughterhouses and meat processors, the Dutch agricultural newspaper Agrarisch Dagblad reports.
The message was communicated©by the Dutch Veterinary Information Centre (VIP) of the country's Product Board for Meat and Livestock (PVV). Last year October, both countries signed a basis protocol for pork exports to China. In order to make sure exports are implemented, the Chinese have to inspect these plants – and approve them. The process of actually sending these teams has now taken about one year.
Over 30 plants have shown interest in a visit like this. They had to fill out a long survey, which the Chinese team used for a first selection. A VIP spokesman indicated it is not completely clear yet which plants will be visited.
As soon as these inspection rounds have been completed, definite health certificates can be set up and exports could start.
Related websites:
• Agrarisch Dagblad
• Dutch Product Board for Meat and Livestock