Chinese province checking pig deaths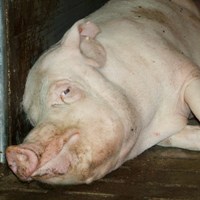 A northern Chinese province has launched an investigation into the cause behind the recent deaths of more than 1,000 pigs, state media reported Monday.
The official Xinhua News Agency said 1,056 pigs, most less than a month old, were found dead in 10 villages in one county in Shanxi province. China is especially wary of any unchecked spread of disease in its pig population. Two years ago, blue ear disease, also known as porcine reproductive and respiratory syndrome (PRRS), killed hundreds of thousands of pigs before it was brought under control.
It caused farmers to stop raising pigs because of worries they would become infected. The outbreak sent pork prices sharply higher. Xinhua said animal disease control officials in Shanxi were carrying out the investigation. Officials have already started burying or burning the dead pigs.
It said no contaminated pork had been found in stores or restaurants.