Chinese pork prohibited for export into Russia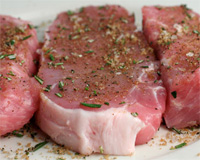 Inspections at Ukrainian plants by Russian officials has led to the prohibition of Chinese pork to Russia.
In the course of inspection of several Ukrainian plants, producing finished meat products, carried out in June 2011 the representatives of the Rosselkhoznadzor and state veterinary services of Belarus and Kazakhstan detected pork produced by Chinese plants which had not been approved for export into Russia.
The products were accompanied by veterinary certificates for transportation between Ukrainian plants issued by the Ukrainian State veterinary committee.
The veterinary certificate agreed by the Ukrainian and Chinese sides should certify that "meat and raw meat products originate from slaughter and processing of healthy animals, stored in holdings and/or in administrative territory officially free from contagious animal diseases, including foot-and-mouth disease during the last 12 months in the territory of the country according to the data of the International Epizootic Bureau", however Foot-and-Mouth outbreaks were detected several times by the International Epizootic Bureau in China.