Chinese hog producer Tianli reports 48% revenue growth in 2011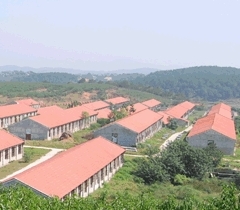 Chinese Nasdaq-listed hog producer and marketer Tianli Agritech, headquartered in Wuhan City, reported a revenue increase of 48% in 2011.
Net sales increased 48% to $31.4 million during last year. Tianli sold 101,600 hogs at an average sales price of $282 per hog, an increase of 3% and 31%, respectively.
Market hog sales were $19.3 million in 2011 compared to $12.4 million in 2010, a 55% increase. Breeder hog sales were $9.4 million, up 6% from $8.8 million for the year ended December 31, 2010 as higher prices offset a decline in the number of breeder hogs sold. Total sales of processed pork products sold through retail channels were $2.8 million in 2011.
Gross profit increased 26% to $11.5 million, resulting in a gross profit margin of approximately 36.7%. Gross margins for breeder hogs, market hogs, and processed pork products were 47%, 32% and 33%, respectively.
Investments
Tianli invested approximately $13.4 million in capital expenditures and breeding stock during the first twelve months of 2011, primarily for plant and equipment, enhancing breeder stock with imported purebreds from Europe and for investments related to its retail products expansion.
"Our company is executing on the vision I had when we launched Tianli eight years ago," Tianli's chairwoman and CEO, Ms Hanying Li, said. "The strong demand for pork in China is providing us with a tailwind to grow organically as our more recent farm acquisitions reach capacity. The retail expansion provides us with further opportunities to increase revenues and cash flows while establishing the Tianli brand through AnPuluo Foods. Our single most exciting strategy for 2012, Enshi Black Hog breeding and sales, is expected to be a major contributor in revenues and earnings for years to come."
Black Hog Project
In May of 2011, Tianli announced the development of its Black Hog program through which Tianli will breed and sell high-value Black Hog meat. Black Hog meat is known for its increased nutritional value and better taste and thus commands a 35% premium to white hog meat sold at retail. The company will work with all of its farmers and farming co-ops in the Enshi Prefecture in Hubei Province to ensure that the quality of the breed is maintained and to develop standardized programs for the feed and care of the hogs. As part of this effort, Tianli will develop an appropriate feed mix, which the farmers will purchase from the company.
To be eligible to participate in the program farmers will need to be able to maintain no less than six sows or produce at least 100 black hogs per year. By the end of 2011, Tianli had funded and completed the construction of 125 farms for local farmers and it envisions that it will fund and construct up to an additional 183 farms by the end of the year 2012. The goal is to achieve a production capacity of 100,000 black hogs during 2012 with a long run target of an annual capacity of 1 million black hogs.
Tianli expects to benefit from the programme in a number of ways, principally by reselling the black hogs purchased from the participating farmers and by providing the farmers with necessary supplies. To date and at the time of this report, Tianli has not started to commercialize Black Hogs. However, the Company expects is will begin selling black hogs late into the first quarter or beginning of second quarter of 2012. The hogs will be bought from the first 78 hog farmers who are the first participants of the Company's Black Hog Program.
Tianli Agritech
Tianli Agritech, is in the business of breeding, raising and selling breeder and market hogs in China and is developing a retail channel for its pork products including high-value, black hog meat. The Company is focused on growing high quality hogs for sale for breeding and meat purposes. The Company conducts genetic, breeding and nutrition research to steadily improve its production capabilities.
Related website:
• Tianli Agritech