Chinese graduate joins JSR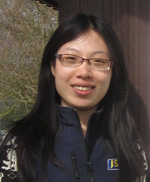 One of China's brightest young graduates has joined UK pig genetics company and will play a key role in their plans for sales growth in China and Asia.
Yolanda Hou, who started work at
JSR Genetics
earlier this year, joins as part of the
UK China
Graduate Work Experience Programme, a reciprocal government led initiative giving
UK companies access to the top 2-5% of Chinese graduates.
Hou
, who was specially selected for JSR by recruitment experts, will be assisting International Sales Director Paul Anderson, and his team, in all aspects of their work with Chinese customers.
"China and Asia are very important target markets for JSR," says Mr Anderson, "and we recognise how vital it is to have the best team on the ground to liaise with customers and provide local insight. Hou's training in law and superb translation skills will be an asset during contract negotiations and ensure effective communication at all times and she will undergo an extensive induction programme to equip her with all the necessary technical knowledge of the JSR portfolio."
"It was through our connections with AHDB and BPEX that we became aware of the reciprocal scheme that allows Chinese graduates to work in the UK for British companies interested in exporting to China," explains Mr Anderson. "This was a timely opportunity and one we didn't want to miss."
Hou, a 26 year old law graduate originating from the Shandong Province of China, is excited by the prospect of working for JSR in the UK. "I am looking forward to working in the UK with JSR, a well respected and forward thinking organisation. I have been made to feel very welcome by everyone here and am already settling in well to the way of life. The Chinese pig market offers huge opportunities and it is well known the UK pig genetics are amongst the best in the world. Ensuring efficient communication is vital in helping Chinese producers improve herd performance by maximising genetic potential."
JSR have already successfully established thriving nucleus herds in Japan and Korea and are continuing to develop a presence in Vietnam, Thailand, Malaysia, Philippines, Taiwan and China.
The company will shortly be releasing more information about a £1m contract they have signed with Chinese State owned import/export company CAHG, who are based in Beijing. The deal, which will see JSR supply nearly 800 pigs to China, includes a comprehensive package of support and training from a JSR international pig specialist. The training, which includes farm management and pig production techniques, is designed to improve factors such as animal welfare and feed efficiency, helping to ensure optimum genetic performance.