Chinese approve Porcine Circovirus vaccine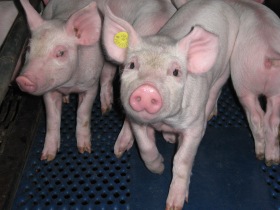 Chinese authorities have granted market authorisation for Circoflex, a vaccine to control Porcine Circovirus Disease (PCVD).
The product, produced and marketed by Boehringer Ingelheim Vetmedica, contains a combination of purified circo-antigen (a virus-like particle) with a designed adjuvant (Impranflex). It is licensed as a single shot vaccine recommended for convenient vaccination around weaning.
The product has been shown to reduce clinical signs like wasting and mortality in the acute form as well as to improve growth performance in the chronic form of the disease.
Since 2006, more than 260 million pigs have been vaccinated with the vaccine.
Pig disease
Porcine circovirus disease (PCVD) is recognised as one of the most economically damaging pig diseases in the world.
Acute infections with the Porcine Circovirus Type 2 (PCV2) compromise the immunity of the pig leading to high mortalities, increased frequency of co-infections with other pathogenes and reduced growth performance. Almost 100% of pigs herds are infected with PCV2.
Related website:
• Boehringer Ingelheim