China: web company going into pig production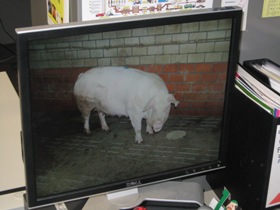 A Chinese web company has launched plans to go into swine production as well, the Wall Street Journal Online reports.
The company, called Netease.com, is known in China as being one of the largest Internet portals.
Ding Lei, founder and the web company's CEO, plans a company sideline into pig farming, with a focus on raising livestock with strictly organic diets.
The company also plans to develop an online network – a sort of Facebook for pig farmers – that lets pork purveyors swap tips and support their industry. Consumers could participate too.
Food safety concerns
Ding said concerns over China's food safety and quality were his main motivation. The company plans to invest tens of millions of yuan into the venture.
Company officials in the initial stages of researching the project have decided to establish Netease's pig farm near Huzhou city, in eastern Zhejiang province. Initial plans include importing about 10,000 black hogs from Kagoshima of Japan to the farm.
Pig species
The decision on this pig species was made after examining various factors, from general taste to the size of the animals.
It is a well-known phenomenon in China to see companies being active in a set of completely different industries.

Related websites:
Wall Street Journal Online
Netease.com