China to lift H1N1-ban on US pork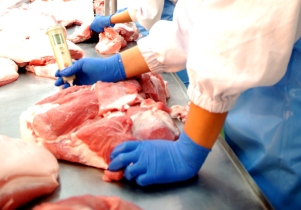 With prodding from the Obama administration, China has announced that it will lift its ban on US pork imports, a move hailed by the National Pork Producers Council.
The Asian nation implemented the ban on US pork in late April in the wake of an outbreak in humans of novel H1N1 influenza, which the media misnamed "swine" flu.
"This is good news for US pork producers, who have been suffering through an economic crisis for the past two years," said NPPC President Don Butler. "China is, by far, the largest potential money-making opportunity for the US pork industry."
The US pork industry shipped nearly 400,000 metric tonnes of pork worth nearly $690 million to China in 2008, making it the No. 3 destination for US pork. This year, due mostly to the H1N1-related ban, US pork exports to China through August were down by 50% over the same period last year.
"A Chinese market reasonably open to US pork would single-handedly put a huge dent in the US-China trade imbalance," Butler said.
China's announcement came at the conclusion of the US-China Joint Commission on Commerce and Trade meeting in Hangzhou, China. The bilateral forum was held to resolve trade issues between the countries. US Trade Representative Ron Kirk, Agriculture Secretary Tom Vilsack and Commerce Secretary Gary Locke attended the meeting. Re-opening the Chinese market to US pork was at the top of their agenda.
"China's intent to remove its H1N1-related ban on US pork marks an important step forward in cooperation between the countries on agriculture issues," said Vilsack.
"NPPC would like to thank the Obama administration, particularly Sec. Vilsack and Ambassador Kirk, and Congress for pressing China to re-open its market to US pork," said Butler. "And we would ask that they continue to work with the Chinese government on other trade issues that are hampering our pork exports to China."
Among those issues are China's ban on US pork produced with ractopamine, an FDA-approved feed additive that improves efficiency in pork production, and the subsidies China provides its domestic pork producers. The Chinese pork industry also derives© significant benefits from an exemption from corporate income taxes and a partial exemption from the country's value-added tax.