China: Soil near pig farms are major reservoirs of antibiotic-resistance genes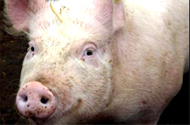 Researchers have demonstrated how routine antibiotic use at Chinese pig farms may have increased levels of tetracycline resistance in soil bacteria from nearby farmlands.
"In China and elsewhere, large amounts of antibiotics are used in the animal industry to promote growth," says Yong-Guan Zhu, environmental scientist at the Chinese Academy of Sciences. "Previous studies have connected tetracycline levels and resistance genes in the environment. But these studies may have underestimated the relationship, Zhu says, by overlooking tetracycline degradation products, which can also kill bacteria."
©
So he and his colleagues used high-performance liquid chromatography and mass spectrometry to sensitively measure five typical tetracyclines and 10 degradation products in soil samples from farmlands near nine swine feedlots in Beijing, Tianjin, and Jiaxing, China. The researchers also detected 15 different tetracycline-resistance genes in the soil. They then quantified levels of five genes with real-time polymerase chain reaction.
©
Their analysis revealed that the total copy number of the five tetracycline-resistance genes correlated with the total tetracycline concentration, including degradation products, in the soil samples. The study, which is the first of its kind in China, clearly demonstrates that soils contaminated from animal farms "are major reservoirs of antibiotic-resistance genes in the environment," says Xiangdong Li, environmental engineer at The Hong Kong Polytechnic University.
©
©