China opens up for Parma hams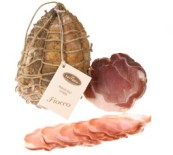 Chinese customers will be able to eat Parma ham as from January 2007. The consortium of Parma hams (Consorzio del Prosciutto di Parma) has gained entry to the market.
Prior to this admission, Mexico, Singapore, South Korea, New Zealand, Australia and Lithuania already opened their borders for Parma ham.
Last week the necessary licence was drawn up and confirmed by Ge Zhirong, Chinese vice president of AQSIQ, the Chinese Administration for Quality Supervision, Inspection and Quarantine.
In Europe, Parma ham is a market leader when it comes to air dried ham. Last year, producers reached a €1.8 billion turnover by producing approximately 10 million hams. Of these, approximayely 1.7 million Parma ham, worth over €500 million, were exported to 60 countries.
Related web sites:
For the latest pig news, subscribe here