China may pull in more pork imports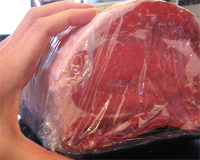 The price of pork in China has been a major concern lately. If prices continue to increase then the country will opt to increase pork imports. For the first six months of 2011, the US exported 16 times more pork to China compared to the same period last year.
Currently, the US is keeping an eye on China's import decisions – as this will allow even more exports from the US into China.
According to reports, wholesale pork prices in China were up 0.1% last week compared with a week earlier, after posting three straight weeks of flat or lower prices.
'The country will continue to see high pork prices in the next few months of the year,' Wang Jimin, said deputy director of the agricultural economics and development institute at the Chinese Academy of Agricultural Sciences. 'The central government may consider importing more pork in the future, especially when the country has been harmed by long-term increases in pork prices.'