China: Illegal pig feed additive scandal affects consumer confidence in pork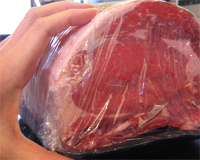 China's government is taking steps to restore consumer confidence in pork, both at home and abroad, following the discovery of clenbuterol-tainted pork, an illegal feed additive which is dangerous to humans.
Since this latest food scandal came to light last month there have been several media reports highlighting the current and previous instances, which have raised serious questions about the safety and reliability of Chinese food and other products plus the affect it has on China's image overseas
The Chinese agriculture ministry says it will cooperate with eight ministries and commissions to launch a year-long crackdown on illegal additives in pig feed.
One pig farmer told Xinhua clenbuterol is inexpensive and can reduce a pig's fat by 10% – lean pork fetches 1.6 yuan, or nearly 25 cents, a kilogram more than fat cuts.
Liang Haoyi, a researcher at the China Animal Agriculture Association, earlier told China Daily that supervision of live pigs currently relies mainly on spot checks with plenty of loopholes.
"For instance, almost no strict supervision is targeted at pig purchasers and some of them have actually encouraged farmers to feed pigs with illegal additives to earn more money," he said.
Professor Zheng Fengtian, an agriculture economist at the Renmin University of China, said he believes the widespread use of clenbuterol is just one of many problems with the country's meat industry.
"Antibiotics are fed to pigs to stop them from getting sick, while growth hormones are added to quicken their growth," he said.
"Disqualified products have no market. This will force producers to behave," Zheng said while urging tighter supervision.
While other experts warned the new government crackdown encourage departments to shift their responsibilities so they can escape blame when something goes wrong.
Wan Long, the CEO of Shuanghui Group, at the centre of the scandal, was quoted as admitting the company's mistake and disclosed the scandal had so far cost the company more than $1.85 billion.
According to Agriculture ministry figures, more than 600 million pigs are consumed in China annually. The China Animal Agriculture Association says in 2009, pork accounted for 65% of the meat consumed by Chinese.