China breeds gender selected piglets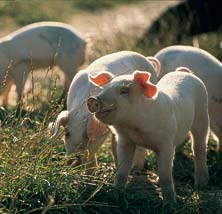 Chinese scientists have claimed a commercial breakthrough after breeding 10 piglets whose sex was successfully selected before conception, heralding potential higher profits for farmers.
The healthy piglets were born last week on an experimental farm belonging to the Animal Science Institute in south China's GuangxiZhuang Autonomous Region, the institute's top zoologist Lu Kehuan said.©
"They were the first pigs in China bred from sperm sorted into male or female chromosomes," he said.©The piglets were born in two broods, an all-male brood of six last Thursday and an all-female brood of four last Saturday.©
AI©techniques
Lu and his team separated boar sperm with the female X chromosome from sperm with the male Y chromosome, and used artificial insemination techniques to transplant the separated sperm into four sows. "Two of them gave birth after 115 days and the other two are due to give birth soon."©
Lu said the "custom-tailored" piglets were no different from other newborn pigs in terms of weight and appetite. But the technique is expected to help farmers manipulate birth rate and upgrade quality of animal species, he said.©
Under normal circumstances, the average gender proportion of male and female piglets is 50:50. "On many pig farms in south China, a young boar is about 5,000 yuan (US$715) more expensive than a sow. An all-male brood of six therefore brings an additional 15,000 yuan compared with an ordinary three male, three female brood," said Lu.©
Swine sperm fragile
Lu and his colleagues reported their first success in buffalo sex selection in 2006, when two female calves were born with X-bearing sperm. The technology is widely used today on milch cows in north China's Inner Mongolia Autonomous Region, whose vast pastures nurtures quality cows and milk. Swine sperm, however, is more fragile and harder to survive compared with buffalo's, Lu said.©
His team carried out several sex selection tests on pigs before, all of which failed either to impregnate the sows or get the desired gender in piglets.