China: A suspended death penalty, guilty charges in illegal pig additive scandal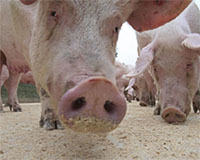 Recently, the illegal pig feed additive clenbuterol was discovered in China and arrests were made. But now, it has been announced that the court in China has handed sentences to those involved. One person received a suspended death penalty.
The Intermediate People's Court of Jiaozuo, in Henan province, found the defendants guilty of "endangering public security by using dangerous means".
The five people who received sentences by the Chinese court are clenbuterol producer, Liu Xiang, who was handed a death sentence with a two-year reprieve. His wife, Liu Honglin, who was found to be an accomplice, was sentenced to nine years for buying raw materials he used in making the pig feed additive. Xi Zhongjie was sentenced to life in prison. Xiao Bing to 15 years and Chen Yuwei to 14 years.
The court stated in the verdict that they produced and sold lean meat powder despite it being harmful. The accused distributed the substance in Henan, Shandong and Jiangsu provinces and five other provincial regions.
In court it was found that Liu Xiang and Xi produced and sold 2,700 kilogrammes of the additive, making profit of 2.5 million yuan ($387,000); Chen Yuwei, Zhengzhou-based, capital of Henan province, sold more than 600 kilogrammes, with a profit of 700,000 yuan; and that Xiao Bing, based in Luoyang, Henan, sold 1,300 kilogrammes,making over 600,000 yuan.
The accused stated that there were no reports in which consumers got ill as a result of eating clenbuterol-tainted meat.
Clenbuterol, harmful to humans, promotes lean meat in pig production and reels in higher pig meat prices in China. The additive also allows meat to get to market sooner.