CHESS nursery panel – MIK's innovative move!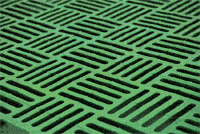 Tradition, innovation and service are MIK's keys to over 30 years of a strong and successful market performance. The plastic flooring system – engineered and made in Germany – has earned highest reputation for its effective design, hygienic self-cleaning, durability and animal-friendly properties.
As latest innovative move, MIK now introduces CHESS – the novelty in design and step-safety – specifically developed as nursery panel for up to 60 kg animal weight.
The unique "chessboard" patterned surface provides excellent step-safety to the piglets in every direction of movement. Its span width of 800 mm reduces the number of required support beams, leading to a higher cost-efficiency.
Like the entire MIK collection, the new CHESS is a hygienic panel demonstrating high stability and easy handling. By meeting the demands of healthy and beneficial livestock keeping it will make significant changes regarding your piglets' comfort and safety, thus positively contributing to your breeding success.