Ceva's Berlin symposium zooms in on sow reproduction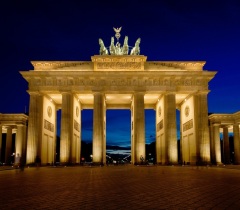 Approximately 150 veterinarians, swine producers and scientists from 18 countries recently gathered in Berlin, Germany to attend a symposium on sow reproduction, organised by animal health company Ceva Santé Animale.
The event, held April 18-19, was called 'Managing sow reproduction to maximise the outcome of pig producers'. It was the company's second symposium on sow reproduction.

Dr Stefano Gozio, the company's corporate marketing director, said, "Utilising the reproductive potential of sows in an optimal way with a strong emphasis on welfare is an essential factor in the economic success of any pig farm in today's highly competitive environment.
"We set up this unique event to share information and experience among guests, key note speakers and Ceva's swine team in order to optimise current approaches to reproductive management."
Presentations
The symposium featured presentations ranging from the genetic potential of animals and tools, to new knowledge on the use of hormones in swine reproduction, with the objective of improving farm production indices, lowering production costs and increasing profits of pork producers.
The event kicked off with Prof Dr George Foxcroft, University of Alberta, Canada, who presented "Genotypes, phenotypes and optimised breeding herd management" in which he focused on evidence for induced 'litter birth weight phenotypes', metabolic effects on prenatal development, in addition to implications for management.
"Management aspects in high performance sow farms" were then shared by Prof Dr Martin Waehner, Anhalt University of Applied Sciences, Bernburg, Germany. He focused on the nutrient intake during lactation and the effects on both LH and FSH along with overall reproductive performance in the following cycle.
Dr Carlos Casanovas, independent veterinary swine consultant and associated teacher, Veterinary University of Barcelona, Spain presented "Alternative use of altrenogest and its benefits" in which he reviewed alternative uses of Altrenogest including the physiologic and potential financial implications.
Following, Dr Claudio Mazzoni, independent veterinary swine consultant, Suivet Group, Italy, discussed "Management and synchronization of farrowing" that highlighted the benefits of farrowing assistance and induction / synchronization of farrowing.
"The veterinarian's role in reproduction management and demonstration of its benefit" was given by Dr Frans Dirven, independent veterinary practice, Lintjeshof, Nederweert, Netherlands. He focused on how reproduction has a strong return on investment, highlighting gilt management, management of farrowing and lactation, and batch-systems resulting in better pig-flow.
Conclusion
The event concluded with three case studies presented by Ceva's Dr Roman Krejci, swine corporate technical manager, Richard Bull, swine key account manager, United Kingdom, and Nathalie Robert, swine range manager, France.

Related website:
• Ceva Santé Animale