Castration: Anaesthetics could affect piglet hierarchy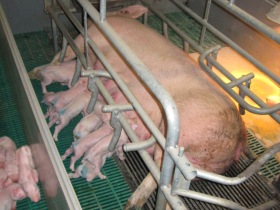 In castration practices, providing anaesthetic injections may influence a piglet's privileged position at the teats, due to reduced coordination capacities. Only giving a painkiller appears not to have any effect on teat hierarchy in new-born litters.
This was the result of a study by the Martin Luther University in Halle-Wittenberg, Germany, performed by Prof Eberhard von Borell, the website Animal Health Online reports.
In the research, the behaviour and hierarchy at the teats were compared, three hours prior to ©anaesthetic castration using injections, and three hours after that.
Piglet castration strategies
Three approaches were compared – a first group of piglets received anaesthetics (ketamin/azaperone combination) and a pain treatment (Meloxicam, Metacam, produced by Boehringer Ingelheim); group 2 only received the pain treatment, the same as group 1. A third group was castrated without any medication. All groups were taken away from the sow for three hours as anaesthesised piglets will 'sleep' for three hours and need to be protected from overlying.
The method of applying anaesthetics as animal welfare proof alternative has been widely discussed in Germany and various other countries, but so far the suckling behaviour had not been researched.
Results
In total, 10% of the piglets in group 1 and 14% in the control group lost their privileged position at the teats. This led the scientists to conclude that separating the piglets from the sows does have an effect at suckling behaviour.
Reduced stability at suckling hierarchy could be a cause for fights, stress and lower milk intake. This last could not be proved through a lower weight gain in the days after castration in groups 1 and 3; in any case, however, higher stress through hierarchy fights can be a result.
In addition, the scientists saw that the piglets in group 2 after separating showed a growth in suckling time of 69%. Piglets in group 1, however, spent 28% less time sucking, whereas piglet behaviour in group 3 did not change.
The scientists suspect that piglets in group 2 had an advantage being only treated with a pain killer, while the extra anaesthetic in group 1 reduced the positive effect of the painkiller. This could be related to reduced coordination capacities through anaesthetics.
Related websites:
• Boehringer Ingelheim
• Animal Health Online©(in German)
• Martin Luther University