Castrated pork a thing of the past for Belgium's largest supermarket chain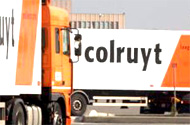 Belgium's largest supermarket chain has announced that it will stop selling pork from castrated pigs by the end of the year.
Swine farms that supply Colruyt and Okay retail outlets have agreed to stop physical castration and will now use vaccination as their standard procedure for rearing male pigs and thus reducing boar taint in the meat.
©
Animal friendly/ boar taint issue tackled
The change follows tests carried out on various alternatives by the Colruyt Group in 2,600 animals after the vaccine, Improvac, was approved by EU authorities a year ago. The results confirmed that vaccination was highly effective at reducing boar taint, and more animal-friendly.
©
Vaccine manufacturer, Pfizer Animal Health, has welcomed the adoption of its breakthrough product by such a major retailer.
©
"There is a general feeling among European legislators and the pork supply chain that we need to find better, more animal-friendly solutions to rear male pigs without compromising on meat quality," said Pfizer's Stephan Martin, who is responsible for the marketing of Improvac in Europe.
©
Consumers prefer vaccination to castration
"Consumers are increasingly making purchase decisions based on the way in which their food is produced, and we know from our own research that the informed EU consumers prefer the use of vaccination to castration in raising males without boar taint."
©
Vaccination provides a number of benefits beyond welfare improvements. Because boars are naturally more efficient, they need less feed and produce a lean, high quality carcass.
©
Less feed also means less cutivated areas are needed and also less waste, making the method more environmentally-friendly and more sustainable.
©
"The use of Improvac is a clear step forward. This innovative vaccine can significantly help on improving swine production and the welfare of animals, keeping pork quality at its best. Everyone wins: the pig, the farmer, the retailer and their suppliers as well as the consumer."
©
As Colruyt's suppliers now stop castration, by the end of the year only pork from vaccinated animals will be on sale in their supermarkets.
©
Farmers worldwide have tried Improvac for over a decade. The product is licensed in 56 countries, including both Australia and New Zealand, where it has been successfully applied since 1998.
©
Improvac has now been used in more than 9 million pigs which clearly illustrates its support among farming communities and the widespread satisfaction among pork consumers. Furthermore, the product has been approved by well regarded animal welfare groups, such as the RSPCA and the "Eurogroup for Animal Welfare."
©
Earlier this year the Federation of Veterinarians in Europe stated that its position on piglet castration was that Immunocastration, i.e. the practice of vaccinating pigs, can be used as an alternative.
©
©
©
©
©