CAST issues paper on sow accommodation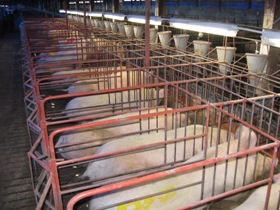 The use of individual gestation accommodations (IGAs) for dry sows in commercial pork production is an issue that has raised much debate. Public perceptions and misconceptions of welfare issues have the potential to dramatically impact swine production.
In an effort to provide objective, scientific information on the subject, the Council for Agricultural Science and Technology (CAST) is releasing a new Issue Paper, Scientific Assessment of the Welfare of Dry Sows Kept in Individual Accommodations.
"Too few statistically adequate, scientifically controlled trials on industry farms have been conducted; many reports are not useful for critical evaluation, thus for developing public policy," says Task Force Chair Dr. Stanley Curtis, Department of Animal Sciences, University of Illinois, Urbana-Champaign.© "More large-scale, on-farm, multidisciplinary, scientifically robust research and development are needed before rigid regulations should be imposed."©
This Issue Paper provides a review of the most pertinent scientific literature on the welfare of dry sows housed in IGAs. The nine-member international Task Force critically evaluates the scientific evidence of IGAs for sows, including
©• Behavioural Considerations©
©•©Nutrition and Feeding Considerations
©•©Reproduction Considerations
©•©Clinical Examination and Health Considerations
©•©Manure Management Considerations
©•©Ergonomic and Worker Safety Considerations
©•©System Design Considerations, and
©•©Future Directions.©©
"The issue of swine welfare related to housing accommodations is at the forefront of conversation in production agriculture and in mainstream media," notes CAST Executive Vice President Dr. John Bonner.© "CAST strives to provide crucial scientific information on such important issues to facilitate informed discussions and decision making."©
The full text of the paper Scientific Assessment of the Welfare of Dry Sows Kept in Individual Accommodations (Issue Paper 42, 20 pp.) may be accessed free of charge on the CAST website along with many of CAST's other scientific publications.
Related website
• CAST
©