Canadian processing sector boosted, increased pork purchases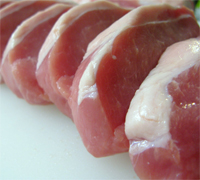 Christian Paradis, minister of industry and minister of state (Agriculture), announced an investment of up to CAN$253,603 to Boulangerie Première Moisson to purchase new equipment for the company's deli meat division in Terrebonne, Quebec.
"Our Government is working hard to ensure the food processing sector continues to help keep our economy strong," said Minister Paradis. "This investment will not only enhance the competitiveness and sales of Première Moisson, it will also support the local economy through an increase in pork bought from Quebec suppliers."
Première Moisson specialises in producing bakery and deli meat products with fresh Canadian ingredients. The new equipment, which includes an electric steam generator and a ham slicer, will enable the company to develop new meat products and use sous-vide cooking to enhance the flavour of its foods. The improvements will also mean greater production capacity and sales for the company, resulting in an increase in its procurement of Canadian pork.
"I applaud the Government of Canada's support for the agri-food processing industry," said Première Moisson president Stéphane Fiset. "The interest-free loan we have received will allow us to acquire the innovative equipment we need to continue to grow in a very competitive and evolving market."
This repayable contribution is being delivered by the Agricultural Flexibility Fund (AgriFlexibility) through the AgriProcessing Initiative, a five-year, up to $50 million initiative designed to enhance the competitiveness of the agri-processing sector in Canada. It provides support to existing companies for projects that involve the adoption of innovative and new-to company manufacturing technologies and processes that are essential to sustaining and improving the sector's position in today's global marketplace. For more information on this program, visit
www.agr.gc.ca/api
.
Through Canada's EAP, the Government of Canada is helping farmers find new markets, adapt to current economic challenges, and make their businesses more efficient and environmentally sustainable. The Next Phase of the EAP will remain focused on strengthening the economy while working toward returning to balanced budgets and securing Canada's economic future. For more information on Canada's Economic Action Plan, visit
www.actionplan.gc.ca
.