Canadian pig producers face crisis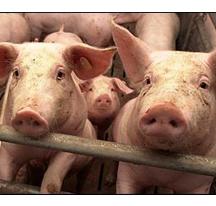 Due to the high value of the Canadian dollar and low pork prices, many pig producers in Canada could lose their farms, according to president of the Canadian Pork Council, Clare Schlegel.
Schlegel says the situation at present is critical with producers looking at staggering increases in feed that have added at least CAN$25 to the cost of raising a pig. He says it now costs about CAN$125 to raise a pig, but producers are only getting about CAN$80 per animal at market.
Schlegel says that the government needs to provide some form of short term assistance to help pig producers. Curtis Littlejohn is the Chair of Ontario pork and says the Ontario government has to recognise this is a world class and competitive industry.
He says the instability of the Canadian dollar has not given the industry time to transition into a new market and what is needed is a cash infusion to help the producers deal with this crisis.
Littlejohn says this cash injection is needed before Christmas, because if no aid is coming, he predicts many hog farmers will simply go out of business.
Schlegel says there are more meetings planed with both Federal and Provincial agricultural representatives to try and work out a plan to protect the industry.
Related websites: