Canadian Gov. invests millions in hog industry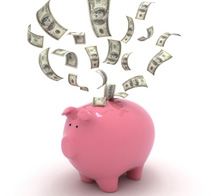 The Government of Canada is once again supporting the livestock industry as they develop a national traceability system. Agriculture Minister Gerry Ritz announced an investment of more than $3.7 million to strengthen the Canadian Pork Council's national swine traceability system, bringing the total investment for this initiative up to $7 million.
"There is no doubt that a strong traceability system benefits Canadian producers, the value chain and consumers alike," said Minister Ritz. "This investment will help the Canadian Pork Council continue the development of its hog traceability system and give our hog farmers the competitive edge they need to access markets around the world."
Capture new markets
"Our Government is dedicated to helping the Ontario pork industry compete, capture new markets and continue to drive our economy to recovery," said MP Harold Albrecht (Kitchener-Conestoga). "Today's investment in hog traceability will pay dividends to the entire value chain here in Ontario and across Canada for generations to come."
Hog traceability system
The Canadian Pork Council's traceability system, PigTrace Canada, is designed to track the movement of hogs across the country. Phase 1 of this initiative focused on the creation of a tag distribution system for hogs, while Phase 2 will focus on combining swine movement information into a national centralized database.
A national traceability system will not only give Canada a competitive edge when working to access new markets but it can also be used as a marketing tool for producers to help get a better return for their high quality products. During a potential animal disease outbreak, a national database would allow the Canadian Pork Council to quickly identify what farm the hog came from and what other animals it may have come in contact with, in an effort to limit the economic and trade impacts of such emergencies.
"Today's (10 Feb) announcement shows the continued support of the Canadian government and industry to work towards the mutually beneficial goal of improving disease preparedness," said Canadian Pork Council's President Jurgen Preugschas. "The Canadian pork industry is working hard towards the implementation of a world class swine traceability system that serves as a tool in moving the Canadian pork industry forward in today's global market."
This investment will be delivered through Growing Forward through the Canadian Integrated Food Safety Initiative (CIFSI), a program that supports national organizations in the development and implementation of traceability processes and systems. This investment is subject to the signing of a contribution agreement.