Canadian ag minister visits Chinese pig producer Cofco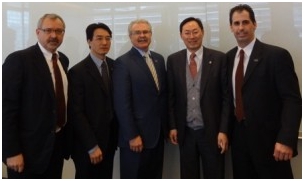 A Canadian trade mission to China, headed by Gerry Ritz, agricultural minister, recently stopped at Cofco, a $22 billion per year corporation mainly involved in food and ingredient procurement for the Chinese market.
Cofco has many holdings, including about 5% of Smithfield Foods. Recently, the Chinese company has expanded into pig production, within China. Their goal is to produce several million hogs per year. Pork is a staple of the Chinese diet, so much so that it accounts for roughly 10% of the weighting of China's Consumer Price Index.
From left to right: Ron Lane, senior consultant for Genesus in China; Dr Yunxiang Shen, deputy director of Cofco, Meat Division; Gerry Ritz, Canadian agricultural minister; Patrick Yu, director and president of Cofco and Mike Van Schepdael, Genesus vice-pesident.
Demand for pork
With a growing middle class and increased demand for protein, pork prices have been at or near all-time highs in China, with a market hog worth approximately $350 each.
The use of Genesus breeding stock with its noted reproductive performance along with the fast, lean growth of the market hogs, the China consumer will see enhanced meat quality in the restaurants and at the dinner table.
The only registered purebreds in Cofco's production system are Genesus animals, located in Cofco's two nucleus herds (at Wuhan and Dongtai) combined capacity 4,800 sows. Canadian breeder Genesus is providing Cofco with ongoing technical service for the genetic programme.
Good relationship
During the meeting with agriculture minister Ritz, Patrick Yu, director and president of Cofco was quoted as saying that the Chinese enjoy "a good relationship with Genesus Canada".
Mike Van Schepdael, Genesus vice-president: "We are very fortunate to be chosen by Cofco, the largest agri-business in China to supply registered purebred swine as the genetic base for its huge commercial production system. Cofco had all the swine genetic companies in the world to choose from, they chose Genesus."
Related websites:
• Cofco
• Genesus