Canada: pigs test positive for Mexican flu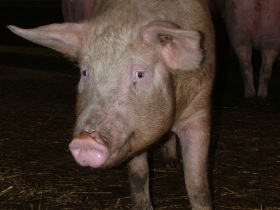 A herd of swine in Canada has tested positive for Mexican influenza, apparently after being infected by a farm worker who recently returned from Mexico.
The herd, in the western province of Alberta, has been quarantined. The farmer 'may have exposed swine on the farm to an influenza virus,' said Dr Brian Evans, a senior official of the Canadian Food Inspection Agency.
He said up to 200 pigs at the farm had been infected with the virus, scientifically known as 2009 H1N1. Both the man and the pigs were recovering, he added, saying that the virus did not seem to have spread beyond the farm.
Evans and other officials said it is not uncommon for flu viruses to jump from humans to animals.
No food safety concern
"I want to be clear – there is no food safety concern related to this finding," Evans said. "The chance that these pigs could transfer virus to a person is remote."
US Agriculture secretary Tom Vilsack said he was satisfied that Canada had taken all necessary measures to contain the outbreak, adding that there were no cases of infected pigs in the US.
Related news items:
Smithfield tests: pig farms free from Mexican flu (May 4, 2009)
Related websites:
United States Department of Agriculture (USDA)
Canadian Food Inspection Agency