Canada invests $2 mln in animal health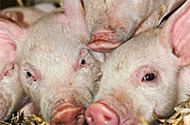 The Canadian government is investing up to $2 mln to prevent and contain animal diseases, Agriculture Minister Gerry Ritz has announced.
The funding for the Canadian Animal Health Coalition for the West Hawk Lake Zoning Initiative will help to monitor the movement of animals and agricultural products between eastern and western Canada.
©
"Our farmers are world renowned for the quality and safety of their products and this investment will maintain and build on that strong reputation," said Ritz. "This initiative allows Canada to once again prove to our international trading partners that we're ready and able to get on top of any potential animal disease problems quickly and effectively."
©
"West Hawk Lake is a vital point that links Western and Eastern Canada," said Minister of Public Safety and Regional Minister for Manitoba, Vic Toews, who made the announcement with Minister Ritz. "Monitoring this access point will help us to ensure we're able to keep Canadian livestock healthy and productive."
©
The West Hawk Lake facility will shift from a successful pilot project to a 24/7 fully operational facility with the ability to track and control movement in case of an emergency where response time is critical. This project is considered a control point on the only major highway and railways connecting eastern and western Canada, near the Manitoba/Ontario border.
©
The Initiative provides the capability to contain an outbreak in one of the two zones.©This will ensure, in the unlikely event of a disease outbreak, that product from the other zone is safe and ready for consumption in domestic and international markets.
©
"The West Hawk Lake Zoning Initiative is another step towards national food traceability," said Canadian Animal Health Coalition's Executive Director, Mark Beaven. "It will improve Canada's capacity to proactively address animal industry food safety and animal health issues."
©
Funding
Funding for this initiative comes from the government of Canada's Canadian Integrated Food Safety Initiative, under Growing Forward, which focuses on assisting the sector to respond to growing consumer demands for improved food safety on the farm and to equip the sector to manage risks proactively.©
©