Canada: $2 million to improve pork facility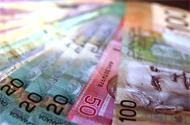 Great Lakes Specialty Meats is purchasing new equipment, increasing refrigeration capacity, and providing specialized training for employees. This will enable the plant to deliver high-quality pork products to new domestic and international markets.
The company will be able to increase its production from 5,000 to 15,000 hogs per week.
©
$2 million investment
Ontario is investing $2 million in this partnership that will create up to 160 new jobs, retain more than 80 positions, support local hog farmers and strengthen Perth County.
©
©