Call for support for piglet castration plan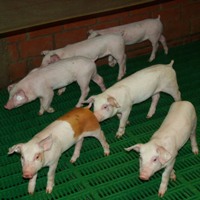 The presidium of the German Agricultural Society (DBV) has called for total support for the 'German way' for dealing with piglet castration. Key in this way is the use of painkillers as long as castration-free production is not feasible.
In an announcement,©especially sent out to create more support from the side of German retail stores, the opinion of the DBV was explained. The 'German way' approach, with using painkillers, will be adopted as from April 1, 2009. In addition, more research into alternatives to castration are encouraged.
The DBV noted that other solutions are being used in e.g. Switzerland (immunocastration) or the Netherlands (anaesthetics), but does not encourage its members to walk this way.
According to DBV, actions like immunocastration or anaesthesising would mean extra work for producers.
In the announcement, the DBV referred to a statement, written in September last year together with other organisations in Germany: "It is our ultimate goal to totally eliminate castration practices, provided that there is no risk for the animals or the consumers. Until a workable solution has been found, the piglet castration can continue in combination with painkillers."
Tönnies
At the same time, the German pork producer Tönnies has taken things one step further, reports Dutch animal welfare organisation Wakker Dier. On its site the organisation reports that the producer has announced to only send pork from non-castrated pigs to the Netherlands, as from August 1. A large number of Dutch retail stores get their pork from Germany.
At the moment, the processor works on an electronic system to detect boar taint at the slaughterline, it is reported. Since this system will only be ready in 2010, the company will use a 'burning test' – by pressing a very hot tool against the carcass, boar taint can be smelled.

Related websites:
Tönnies
Deutsches Bauernverband (DBV)
Wakker Dier