British pig industry support EU food labelling rules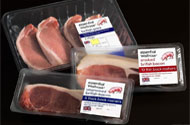 Proposed changes to European food labelling rules are welcomed by English pig producers.
New research just published by the Food Standards Authority highlights current confusion among consumers over 'country of origin' labelling.
©
The new rules will require manufacturers that use the country of origin labels on meat products to indicate where the animal was born, reared and slaughtered – not just where it was processed.
©
Support
BPEX, representing English pig farmers, fully supports the EU legislative proposals which will build on the significant progress already made in the UK pig meat supply chain. A new voluntary code of practice on the labelling of pork and pork products is now being drawn up following agreement by pig producers, processors, major food retailers, and the food service sector.
©
BPEX director Mick Sloyan said: "English pig farmers have long fought for clearer labelling to provide unambiguous consumer choice and confidence. The voluntary code and forthcoming EU rules will reassure consumers that, when they buy Quality Standard Mark pork and pork products, they will have been produced to very high welfare and exacting quality standards. It clearly differentiates QSM pig producers from other pork producing countries."
When introduced, companies who have signed up to the voluntary code will clearly display the origin of the pork on the front of the packet. Meanwhile, a declaration that the meat is, for example, 'British', will mean that the animal was born, reared, and slaughtered in Britain.
©
There will also be an end to ambiguous terms such as 'Produced in the UK' as the origin of the meat will be declared.
©
The voluntary agreement was reached by members of the Pig Meat Supply Chain Task Force which was brought together by Defra, chaired by Food and Farming Minister Jim Fitzpatrick, who chairs the Task Force.
©