British FMD tests prove negative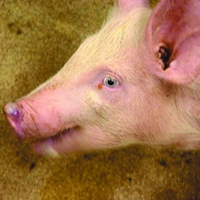 British livestock farmers can breathe again, as tests for foot-and-mouth disease (FMD) and swine vesicular disease at an abattoir in Essex, England, have proved negative.
The British farm ministry Defra announced these results earlier this week.

"Further negative laboratory test results tonight for
FMD
and
swine vesicular disease
mean that restrictions have been lifted on the slaughterhouse in Essex, and the farm the pigs originated from. The 8 km radius zone surrounding the slaughterhouse has also been removed," Defra said.

Swift
"The swift response of the State Veterinary Service, Meat Hygiene Service, and Institute for Animal Health and the subsequent handling of this suspect case has demonstrated the strength of our contingency plan, and our partnership with the industry."

The Essex site was quarantined after the possible discovery, Thursday night. First tests carried out by the Institute for Animal Health had already suggested the disease wasn't FMD.
Unclear is what disease eventually was the cause of the infection in Essex.

Related websites: