BPEX re-examines Europe's readiness for sow stall ban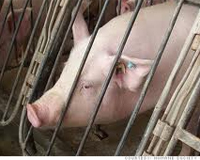 An updated report has been produced by BPEX re-examining the readiness of European countries for the introduction of the partial stalls and tethers ban on 1 January 2013.
Working together with colleagues across the EU, the report also features scenarios on how the market might be affected by the change.
Fewer than half EU Member States are expected to be fully compliant with the EU Directive which could result in market disruptions.

The report says:
pig production in the EU could to fall by between 5% and 10%
Member States are reporting "significant numbers" of producers are set to quit the industry because they will be unable or unwilling to comply with the new sow stall ban.
as a result, processors and retailers may well face substantial price increases.
The European Commission has made it clear that it expects the new rules to be rigorously enforced and will initiate infraction proceedings against Member States who are not fully compliant.
AHDB Senior Analyst Stephen Howarth said: "The experience of the egg sector shows that it is very likely that the regulations will have a major impact on the EU pig meat market."
"The latest information confirms that there are many producers who still won't have complied with the rules by the end of the year, while others will have stopped breeding altogether.
"Historically, even small changes in pig production have led to significant shifts in price. With production likely to fall by five per cent or more, prices could be at least 10 per cent higher, possibly more."
BPEX Chairman Stewart Houston said: "
It is imperative for retailers and processors to ensure contract arrangements that guarantee the supply of pig meat under terms that allow sensible business decisions to be made and for everyone in the supply chain to work towards a sustainable, profitable sector.
"Getting this right will demonstrate the integrity of the EU Commission and Member States in enforcing legislation that they have agreed, it will demonstrate the integrity of the whole supply chain that it will protect pig welfare and above all it will benefit consumers through the continued supply of high welfare, high quality pork and pork products."