BPEX: Increase in pork consumption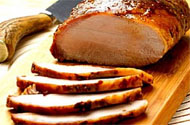 Roast pork is ruling the roost as the latest figures show increases in consumption says BPEX.
Comparisons looking at figures for monthly, quarterly and annual consumption are all showing rises.
©
On an annual basis, fresh and frozen pork is up 3.1% while shoulder roasting joints are up 40% and loin roasting joints are up 11.7%.
©
Bacon too is in positive territory with a year-on-year increase of 5.4% according to the latest figures from Kantar Worldpanel.
©
BPEX Head of Marketing Chris Lamb said: "These are really encouraging figures, especially as the real growth has been in the less popular cuts which are really good value for money.
©
"Part of this could be an effect of the recession as people make their money go further and also consumers are eating out less so we are seeing a shift in buying patterns.
©
"The major supermarkets have also been running price promotions on these cuts which will obviously have had an effect."
©
Source:©BPEX