BPEX feed costs report unveiled – English pig industry under threat/ strategies outlined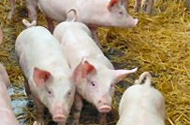 Pay pig farmers a proper price for their produce to help with rocketing feed costs and to ensure a sustainable future for quality assured Red Tractor pork. That is the overriding message to the pig meat supply chain following the unveiling of a new report from BPEX, The Impact of Feed Costs on the English Pig Industry.
The report makes a detailed examination of the impact of the price of feed – the single most important component in the cost of producing a pig – on the English pig industry and provides the supply chain with a series of tangible actions to help meet the challenge of rising feed costs.
©
Escalating feed prices
The report reveals that the sustainability of the English pig industry is under severe threat as a result of escalating feed grain prices.© Grain market increases pushed feed costs up by 30% – literally overnight – and they are still rising. The Russian and Ukrainian export bans, increased demand and extreme weather conditions across the globe have been cited as key drivers of this rise.© Wheat is the main ingredient of pig feed.© The cost of pig feed and the total cost of producing a pig are therefore highly sensitive to fluctuations in the prices of commodities such as wheat.
©
To make matters worse this latest hike in feed costs has coincided with a fall in the price paid for a finished pig, measured by the Deadweight Average Pig Price (DAPP).
©
With no sign of a let up in feed cost rises the industry needs to act now.© The solution, as laid out by BPEX in its report, is for the pig meat supply chain to adopt this three-point action plan:
Increase the DAPP©
Support English high welfare pig meat production
Adopt total supply chain co-operation
Strategies
BPEX Head of Marketing Chris Lamb said: "We have outlined three key strategies to help the English pig industry avert a crisis similar to that which plagued us in 2007/8.
©
"First, the industry must respond by increasing the DAPP. The only sustainable solution is for farmers to obtain a higher price for their pigs. Second, we need to remind retailers of the importance of supporting English/Red Tractor pigmeat production with its high welfare and quality assurance standards.© And finally, the whole supply chain needs to pull together to ensure a profitable production sector and that the industry continues to meet demand for quality, farm assured product, such as pork which carries the Red Tractor logo.©
©
"The message we're taking to industry with this new report is clear: failure to act in the face of this challenge from high feed costs could have a devastating impact on pig production in this country. It's no exaggeration to say that the sustainability of the English pig industry is at stake.
©
"It is critical that we learn the lessons from 2007/8 when the industry faced wipe-out.© The highly successful Pigs Are Worth It! campaign, which encouraged retailers to pay a fair price to farmers, was credited with saving many producers from going to the wall.© The campaign has a role to play in 2010 because we are still passionate about our industry and firmly believe that Pigs Are Still Worth It!"
©
The publication of the report coincides with the launch of a new campaign website –
www.pigsarestillworthit.co.uk
– where the document can be downloaded in its entirety.© The Pigs Are Still Worth It! website provides industry with a one-stop shop, featuring news and information relating to the 2010 campaign to support English/Red Tractor pigmeat production. The website also features a link through to the original campaign website.©©©©
©
Source: BPEX
©